Arts & Culture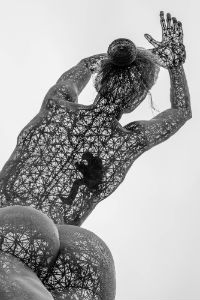 San Leandro has many organizations dedicated to the performing arts and fine arts culture. Following are links to websites with performance, event and related information.
Websites:
Farmers Market
The San Leandro Farmers' Market offers the best in fresh, locally-grown fruits and vegetables and family fun all summer long. Every Wednesday, Parrott Street in downtown San Leandro will be transformed into a vibrant marketplace of sweet, juicy, tree-ripened fruits; delicious, healthy, just-picked vegetables; beautiful fresh-cut flowers; gourmet foods; and tasty snacks. The San Leandro Downtown Farmers' Market is open every Wednesday, from 4:00pm to 8:00pm, April through October.
Websites: Downtown Farmers Market
Movie Theaters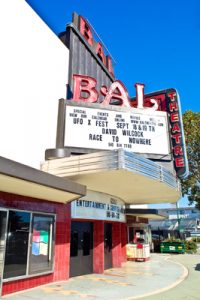 Century San Leandro Bayfair 16
350 Bayfair Mall, San Leandro, CA
(510) 481-0123
Accessible to persons with disabilities.
Websites:: Movie Times
Historic Bal Theatre
The Historic Bal Theatre originally opened on July 1st 1946 and has continued to be run as a multi genre theatre of movies, live music and comedy.
14808 E. 14th Street, San Leandro, CA
(510) 614-1224
Accessible to persons with disabilities.
Website: Bal Theatre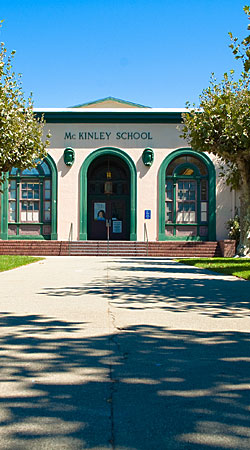 Schools
San Leandro Unified School District
San Leandro is very proud of its schools and the safe, inclusive learning environment that has been created for its students. The San Leandro School District consists of 12 schools serving approximately 8,800 students in grades K-12. The District is organized into eight elementary schools (K-5); two middle schools (6-8); and one comprehensive high school (9-12) that – beginning this fall – will be comprised of two separate campuses. The new High School Fred T. Korematsu campus, opening its doors in time for the 2010-2011 school year, is a beautiful state-of-the-art facility for 9th grade students only.
Websites:: San Leandro Unified School District
San Lorenzo Unified School District
The mission of San Lorenzo Unified School District is to work together with parents and the community to develop critical and creative thinkers who are knowledgeable, responsible, caring participants who contribute to a changing world.
Website: San Lorenzo Unified School District