Downtown Parking Garage
The Downtown Parking Garage provides convenient parking for employees and business patrons, while leaving San Leandro's surface lots and street parking for shoppers. Located at 122 Estudillo Avenue, the new garage contains 384 parking spaces with convenient pedestrian access to nearby businesses. For more information, visit the ParkSL website.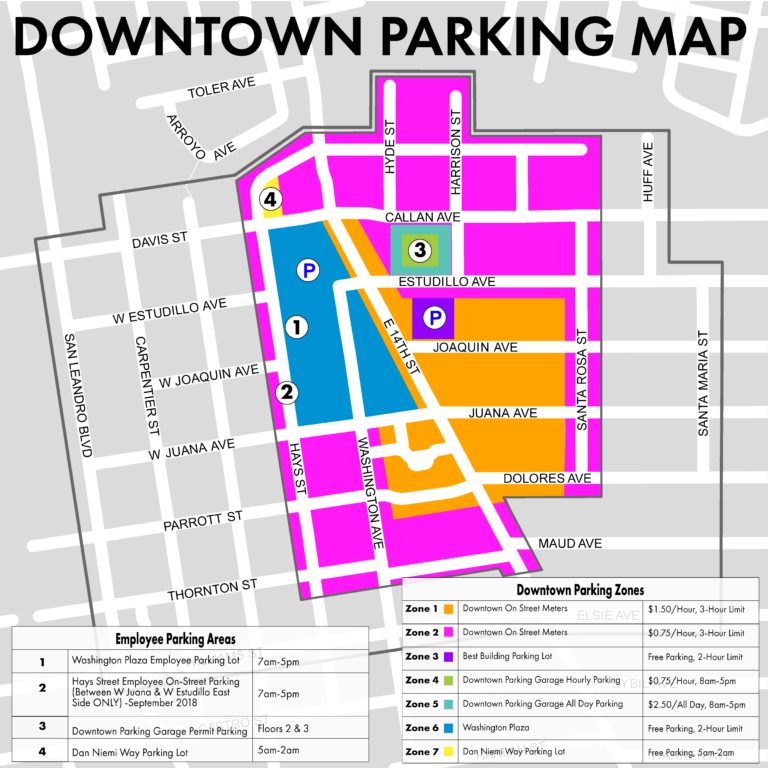 Downtown Parking Website
The City of San Leandro offers short terms on-street parking options throughout Downtown San Leandro.
New additions to San Leandro on-street parking include mobile payment through the ParkMobile App, allowing customers the convenience of paying on their phone.
How to Use ParkMobile:
Download the ParkMobile App to your Apple or Android device.
Sign up with an easy registration.
Enter your zone number from the Parkmobile sticker on your parking meter.
Confirm zone number, location, and license plate number for the parked vehicle.
Choose the duration you wish to park.
Start parking – and enjoy Downtown San Leandro!
NOTIFICATION: Parkmobile can send 15-minute notifications to let you know when your session is about to expire. If you have not reached the maximum meter time, you can extend your session through the mobile app and continue your downtown business.
How to use the pay stations:
Press START key to wake up the pay station.
Enter your License Plate using the keypad.
Insert payment (coins or credit card).
Use the +/-/MAX key to increase or decrease time limit on the 1st floor.
Press MAX key to pay the $2.50 flat rate for All Day Parking on the 4th floor.
Press PRINT when don with selection.
Transaction Finished.
*REMEMBER: No need to display receipt, your license plate serves as proof of payment.
Downtown San Leandro is made up of a charming mosaic of shops with landscaped sidewalks, bustling public plazas, quaint boutiques and inviting eateries and cafes all with their own unique character. There are approximately 3,000 paid public parking spaces to provide Downtown customers the flexibility to run errands, relax over lunch, work a full day, or enjoy their time in San Leandro. Downtown parking permits are also available to business owners, employees, and residents who require all-day parking. The Downtown Parking Garage Pay Station is located on the 1st floor on the far left side in front of Wells Fargo Bank.
The Downtown San Leandro Farmers Market takes place on Wednesdays from April 6 until October 5 in the Main Library parking lot at 300 Estudillo Avenue.
On these days, parking will be made free on the 1st and 4th floors of the Downtown Parking Garage starting at 3PM. Market visitors may also utilize street parking on Callan and Estudillo Avenues, adjacent to the library lot. Please be advised that entry to the library lot will be closed on Callan avenue and partially closed on Santa Rosa Street during market hours. Estudillo Avenue access is still open. To learn more, visit the City's
webpage about the Farmers Market
.
Parking is not enforced on the following observed holidays:
New Year's Day
Martin Luther King Jr's Birthday
Washington's Birthday
Memorial Day
Fourth of July
Labor Day
Veteran's Day
Thanksgiving Day
Christmas Day