The Leadership San Leandro program is based on the belief that our City's most valuable resource is its people. The program is open to a diverse cross-section of individuals with a desire to educate themselves with vital community information along with reinforcing their leadership skills and involvement in the community.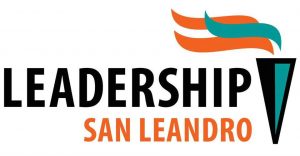 What Is Leadership San Leandro?
Leadership San Leandro is a professional development, networking and outreach program of the Chamber of Commerce.  Led by an Executive Leadership Coach, participants receive training throughout the program on leadership strategies.  They also take tours of local institutions and businesses and hear directly from government and business leaders about their roles, experiences and professional growth.  The guest presenters represent a diverse cross-section of the community, ranging from elected officials to high-tech innovators, traffic engineers to police   detectives, communications experts to entrepreneurs.
Who Should Attend Leadership San Leandro
Individuals living or working in San Leandro who are:
Interested in government leadership
Wishing to learn about how to make a difference in our community
Wanting to improve professional skills
What Is The Curriculum?
Professional Coaching Themes:
Skills Assessment & Analysis
Win-Win Communications & Negotiations
Effective Feedback Strategies
Leadership Skills to Generate Results
Coach to Inspire Your Team
Develop a Professional Brand
Guest Presenters Speak On:
Diversity, History & San Leandro Today
Local Government & Economic Development
Criminal Justice
Public Education
Health & Human Services
Technology & Innovation
Media & Communications
What Is The Commitment?
Attend ALL of the following:
Program Orientation – weekday evening
Opening Retreat – 2-days (1 night)
Seven Monthly 8-hour meetings (3rd Friday, Oct-May)
Community Service Project
"Taste of San Leandro" Evening fundraiser event (March)
Graduation Ceremony
What Is The Investment?
Program Tuition of $895, covers all program costs including:
Program materials
Professional skills assessment & analysis
Retreat lodging & meals
Meeting days breakfast & lunch
How to enroll
Click here to apply online:  Leadership San Leandro 2020
Click here for a program brochure:  Leadership San Leandro Brochure
Potential applicants may contact Leadership San Leandro with questions at:  leadershipsl@sanleandrochamber.com